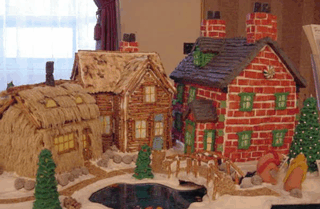 Celebrity Chef
Gingerbread Competition
December 1, 2002.
Presented by

Make It Happen Inc. was pleased to be the event planner for the 3rd annual Celebrity Chef Gingerbread Competition, held at the Westin Nova Scotian on December 1, 2002.

This event, is fast becoming the signature fundraiser for the Metro Non-Profit Housing Association (MNPHA). This fun family event offers a unique opportunity for the entire family to share in a traditional Christmas event while contributing to an extremely worthwhile cause - combating homelessness.
Local celebrity chefs design gingerbread houses to be judged and auctioned off at the event. This fundraiser focuses on family participation, fun, giving and tradition at Christmas time, a time when togetherness and giving is so important and meaningful.
Your whole family can view the beautiful chef-built gingerbread creations while taking advantage of a rare opportunity to create your own gingerbread house under the guidance of top chefs. At the end of the afternoon, you will get to take your house home to enjoy throughout the holidays.
The Metro Non-Profit Housing Association is committed to providing secure housing to low income, single individuals. Homelessness in Canada is on the rise. Each year at least 225,000 people find themselves with no place to live. With shrinking government funding, it is becoming difficult to provide ongoing services that are essential to our members rebuilding productive lives. The housing projects developed by the MNPA provide residents with a stable base and a supportive environment.
Be sure to check the What's New page in upcoming months for more information on the Celebrity Chef Gingerbread Competition being planned for December 2003!