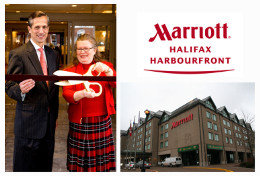 Make It Happen Inc. was honored to work with the Halifax Marriott Harbourfront, Marriott's 50th hotel in Canada, as they celebrated their arrival in the community!
The Marriott sign was unveiled on March 13, 2006 with celebrations and "Amazing Race" themed training sessions for the staff.
On May 18th the hotel's 44 North restaurant was transformed into the S.S. HMH. Passengers set sail to exotic ports of call to raise funds in support of the IWK Health Centre, a member of the Children's Miracle Network.