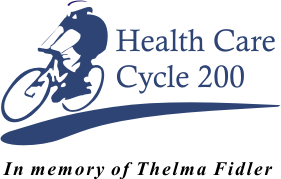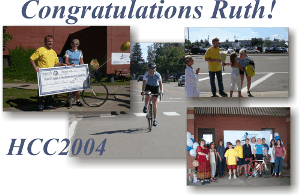 Make It Happen Inc. was honored to work with Ruth Draper as she reached her goal of biking 200kms in support of the Sydney & Moncton Hospital Foundations.
As a brain tumor survivor, Ruth recognizes the value of health and the importance of local health care providers. With this in mind, Ruth completed her goal and raised over $5,000 for each Foundation.
The Health Care Cycle 200 consisted of two 100 km bike rides, one in Cape Breton (August 31, 2004) and one in Moncton (September 2, 2004).
Ruth discovered her passion for biking when she was inspired by Lance Armstrong, now six time Tour de France Champion, and a cancer survivor. Lance hosts an annual fundraiser in Austin, Texas called Ride for the Roses, a challenging 100km ride/fundraiser in support of cancer.
Also, congratulations to the winner of the $1,000 cash prize draw in Sydney; Gary Spencer of Atlantic Blue Cross Care (Ticket #123) and in Moncton; E. Shani Jones (Ticket #070).