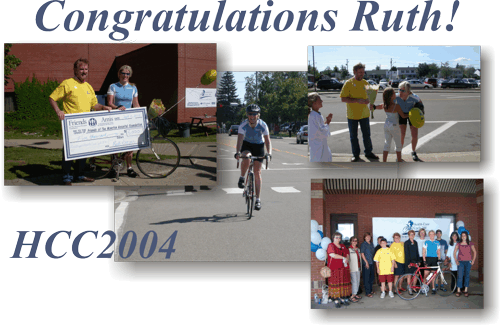 Ruth Draper has crossed the finish line in Sydney & Moncton!
The winner of the $1,000 cash prize draw in Sydney was Gary Spencer of Atlantic Blue Cross Care (Ticket #123) and in Moncton the winner of the $1,000 cash prize draw was E. Shani Jones (Ticket #070).

About HCC 200
As a brain tumor survivor, Ruth recognizes the value of health and the importance of local health care providers. With this in mind, she will solo bike ride and hopefully reach the fundraising goal of $5,000 for each Foundation. The Health Care Cycle 200 consists of two 100 km bike rides, one in Cape Breton (August 31, 2004) and one in Moncton (September 2, 2004).
Ruth discovered her passion for biking when she was inspired by Lance Armstrong, now six time Tour de France Champion, and a cancer survivor. Lance hosts an annual fundraiser in Austin, Texas called Ride for the Roses, a challenging 100km ride/fundraiser in support of cancer. Ruth's BIG GOAL during her recovery was to complete the ride. She accomplished that milestone and it's that same passion that is driving Ruth today to ride 200 km in support of these two local hospitals.
HOW CAN YOU HELP?

Purchase one of the 250 tickets available for $20 and you'll have a chance to win a $1000 cash prize! Two, $1000 draws will take place, one in Sydney, Aug. 31 at 3pm and the second in Moncton on Sept. 2 at 3pm Join Ruth and her team as they celebrate at the finish! Festivities will include a BBQ, the prize draw and the BIG Cheque presentation to the Foundation. FREE HCC 200 T-shirts to anyone selling or buying $100+ worth of tickets!